Elaine Baumgartel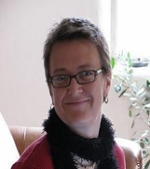 Part-Time Instructor
Email: 

Phone: 

505-277-5305
Profile
Elaine earned her BA in Anthropology at Columbia University in 1997 and her MA in Communication at UNM in 2011. She's been interested in media representation of identity and communities for many years and completed her MA thesis project on the West Mesa murders and coverage of violence against women in the media.
Elaine volunteered to answer phones at KUNM public radio in Albuquerque during a pledge drive in 2003 and has filled many roles at the station over the years. She was a volunteer, student employee, then local anchor of NPR's Morning Edition. She also worked at KUNM as a reporter and host/producer of the station's one hour live call in show. She's now KUNM's News Director.
She's taught Intro to Mass Communication, Public Speaking, and Writing for Broadcast. Now she mainly teaches Radio News Production and Podcast Production.
Elaine is also an avid ceramicist and she loves to cook for friends and family. Find her on Twitter: @ElaineWave and on Facebook: Elaine.Baumgartel.