Marco Briziarelli
Associate Professor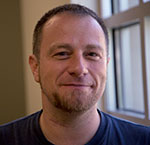 Communication

Email: 

Office: 

Room 236
Ph.D., University of Colorado, 2012
Profile
Marco Briziarelli studies critical approaches to media and communication, especially as these fields intersect with broader issues in political and social theory, intellectual and cultural history. Dr. Briziarelli is currently interested in media and social movements, critical conceptualization of digital labor, and left wing populism.  His work has appeared in Communciation and Critical/Cultural Studies, Critical Studies in Media Communication, Triple C, Continuum: Journal of Media & Cultural Studies, Journalism, and in many edited volumes.  He is the author of several books:  The Red Brigades and the Discourse of Violence: Revolution and Restoration, Gramsci, Communication and Social Change, and soon to be published Spectacle 2.0:  Reading Debord in the Context of Informationalism Capitalism; Podemos and New Political Cycle.
Sample Publications
Briziarelli M. (2016). Invisible Play and Invisible Game: Video Game Testers or the Unsung Heroes of Knowledge Working. Triple C.14, 1 248-59.
Briziarelli, M. and Kari kari, E. (2016). Mediating Social Media's Ambivalences in the Context of Informational Capitalism. International Journal of Civic Engagement and Social Change (IJCESC) 3(1), pp 1-22
Briziarelli, M. (2016). To Feel and to Understand Political Struggle. The National Popular Rhetoric of Podemos. Journal of Communication Inquiry 40, 120-133.
Briziarelli, M. (2015). The Immense Accumulation of Spectacles: Crisis Capitalism or Crisis Exceptionalism. Global Media Journal 12, 5-17.
Briziarelli, M. & S. Martinez Guillem (2015). The Counter-hegemonic spectacle of Occupy Wall Street: Integral State and Integral struggle.IC, Revista Cientifcade Informacion y Comunicacion, 11, 145-166.
Briziarelli, M. (2015) "Forcing" and "Consenting" Social Struggle: Reflectionson Rhetoric and Jacobinism. Argumentation and Advocacy 50, 4 : 230-235.
Briziarelli, M. (2014). Hide and Seek: Neoliberalizing the State andStating the Neoliberal. Communication and Critical Cultural Studies 1-16.
Briziarelli, M. (2014).Hegemony: Not new thoughts on a not new concept. Texas Speech Communication Association Journal Spring 2014, Volume 38/1.
Briziarelli, M. (2014). The Ideological Reproduction: (Social) Working and Laboring in Digital Landscapes. Triple C 12, 2 1-21.
Briziarelli, M. (2014). Social Work or Unpaid Labor? The ideological reproduction of Facebooking. Lo Squaderno, 34, 21-25.
Briziarelli, M. (2014) The Dialectics of Voluntariat 2.0: Producing Neoliberal Subjectivity through Facebook. Sociologia del Lavoro, no.134, 133-144.
Briziarelli, M. (2013).(Re-)Occupy Critique! The Condition of Theory and Praxis in Contemporary American Academia. GJSS 2013 10:3, pp. 54-79.
Briziarelli, M. (2013) [review of the Book]. The Moral NeoLiberal: Welfare & Citizenship in Italy by A. Muehlebach]. Journal of Modern Italian Studies, v.18. 3.M.
McDevitt, M. Briziarelli, and B. Klocke (2013)Social drama in the academic-media nexus: Journalism's strategic response to deviant ideas. Journalism (January) 2013 14: 111-128.
Martinez Guillem, S. & M. Briziarelli (2012). We Want Your Success! Hegemony, Materiality, and Latino in America, Critical Studies in Media Communication. 29:4, 292-312.
Brizarelli, M. (2011) "Neoliberalism as a State-centric Class Project: The Italian Case." Continuum: Journal of Media & Cultural Studies, Vol.25, 1-13.
View Marco Briziarelli's profile on the Faculty Authors page.