C&J Has A New Department Administrator
Departmental News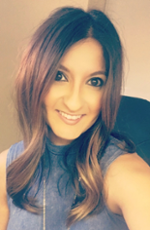 Posted: June 20, 2019
The Department is thrilled to announce that Tanya Oates will be joining C&J as Department Administrator, effective next Wednesday, June 26th. 
Tanya, who is a graduate of the C&J Department -- she majored in interpersonal and intercultural communication -- is currently the Senior Alumni Relations Office at UNM's School of Medicine. In that position, Tanya manages and oversees five UNM School of Medicine scholarship endowments. She also is responsible for managing the La Tierra Sagrada Society Board of Directors and Alumni Association Board of Directors, tasks that include preparation of all financial reports, budgets, and strategic plans.  
Prior to joining the UNM School of Medicine, Tanya held a variety of high-level managerial/administrative posts at Presbyterian Health Care Services, Lovelace Biomedical and Environmental Research Institute, New Mexico Community Capital, College Success Arizona, and the New Mexico Cancer Center. 
Tanya was the unanimous top choice of the search committee, and I so am particularly excited that she accepted our offer. She's very excited about coming back to C&J and working with all of us. 
If you're around this summer, please stop by and say hi to Tanya. 
Welcome Tanya!