Congratulations, Anthony Zarinana!
Departmental News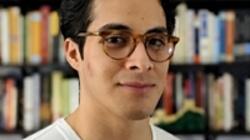 Posted: October 1, 2020
I'm excited to share with you some great news:

C&J PhD candidate Anthony Zarinana has been named as part of the inaugural cohort of Critical Race Scholars in Graduate Studies!

Please see the announcement linked below for more details about this new program and about Anthony.

Congratulations, Mr. (soon to be Dr.) Zarinana!
Related Link: http://news.unm.edu/news/graduate-studies-announces-2020-2021-critical-race-scholars