Distinguished Professor, Miguel Gandert scheduled to highlight his work at UNM's Art Museum June 23rd
Departmental News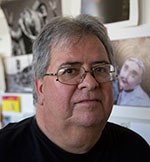 Posted: June 22, 2017
The University of New Mexico's Art Museum hosts "Photo Fridays," a series of short 30-minute talks on select Fridays throughout the summer.   "Photo Fridays" will give viewers an intimate glimpse inside of the Museum's collection.
Distinguished Professor Miguel Gandert will speak, on June 23rd, about documentary photographs and talk about the power of photography as a social tool. He has often photographed those on the fringes of society, including bikers, lowriders, boxers, teen-age mothers, and Mexican immigrants.
The talks, which are free and open to the public, begin at 5:30 p.m. and will be followed by a reception in the galleries. Space is limited.  RSVP with Traci Quinn at tmquinn@unm.edu.